A Weekend In Waco
A Weekend in Waco, Whatcha Need to Know...
Girls weekend, doesn't happen very often so when it does it's always a great dilemma on where to go? Spend time on a plane traveling and less time relaxing, or stay close? This time we choose to take a short drive to Waco, Texas. A sleepy little town that is the home of Baylor University, and recently put on the map due to the overwhelming love of the show Fixer Upper, with Chip and Joanna Gaines.
The Gaines family call Waco home and have recently opened a larger version of their store called Magnolia Market at the Silo's. The market houses tons of great décor items for the home, and an outdoor garden space that will soon have a garden store next to it. There is an amazing outdoor space with beautiful green turf that comes complete with outdoor games, hula hoops, and Corn Hole - just to name a few. Great place for dad and the kids to hang while you shop! When you get hungry don't worry, there are several food trucks that call the Silos grounds home as well as tons of picnic tables that fall between the food trucks and the grassy area. I recommend the grill cheese and the tomato soup!
Whether or not you are a fan of the show fixer upper, The Magnolia Market at the Silos and several other fun places will welcome you on your visit to Waco. However, there are some key things to know before you leave. Make a reservation at one of the many hotels available, between the love of Magnolia Market and Baylor Universities many specialty days and football games, you want to make sure you have a place to stay. The sleepy town of Waco is still sleepy, most of the shops close at 5 pm or 6 pm even on Saturday. Several of the shops, including Magnolia Market at the Silo's, are closed on Sunday. So make sure you plan your time wisely. Magnolia Market at the Silo's has been known to have long lines to get in the building, we were lucky and did not have to wait! However, the retail part of the market was very crowded, I am anxious to make a trip back on a weekday in hopes to see the shop with a few less people. There are additional cashiers in the lower level of the market, those lines tend to be shorter. The fresh made popcorn is down there too, the salted caramel is a great choice. I Iook forward to our next trip to Magnolia Market at the Silo's when the new bakery "Flour" opens, the building was in the middle of remodel while we where there for our visit.
If your driving from the Dallas Ft. Worth area and time it just right you will drive right through Ennis,TX during bluebonnet season. More great places to shop and eat are listed below. Enjoy your time in Waco!
Places to Shop and eat:
Magnolia Market at the Silo's - 601 Webster Ave, Waco TX 76710 closed on Sunday
https://shop.magnoliamarket.com/Laverty's (Joanna shops here for some of the furnishings seen on the show) 600 North 18 th Street, Waco TX 76707 254.754.3238 – call ahead and make sure they are open
Harp Design Co. and Showroom – This is Joanna's carpenter, Clint Harp. 808 North 15th Street, Waco TX 76707 254.230.2054
Nearby Antique and Boutique Malls: Cameron Trading Co. Antique and second hand Mall - 618 Austin Avenue, Waco, TX 76701 254.756.7662
Sironia – Boutique Mall 1509 Austin Avenue, Waco, TX 76701 254.754.7467
Spice Village – Over 100 Boutiques (Olive Branch bakery on the first floor- great coffee and treats) 2nd and Franklin, Waco TX 76701 254.757.0921
The Findery - Close to Magnolia Market 501 South 8th street, Waco, TX 76706 254.235.1777
Where to Eat:
Ninfa's Mexican Restaurant –The locals told us this is the best Mexican food around and that the restaurant has been around forever, great local fare. It did not disappoint.
Klassy Glass-Great little wine bar with live music, perfect stop when you need to rest between shops,walking distance from Cameron Trading. Across the street are some very cool green doors and a neat exposed brick wall, as we sat on the patio and enjoyed our wine we saw a bride and several girls in prom dresses take pictures 723 Austin Avenue, Waco TX 76701 254.752.1808
Portofino's Italian-Just a few doors down from the wine bar, great food, cozy place. Across from the Hippodromeif you want to catch a movie between wine and dinner 725 Austin Avenue, Waco TX 76708 254.753.8900
Baris Italian Restaurant-A hole in the wall restaurant! Amazing food and great service. I think we saw as much "to go" food go out the door as we saw being served in the restaurant. Open on Sunday
Common Grounds Coffeehouse –Joanna often meets her customers here, and "fixer upper"redid the owner's of Common Grounds personal home. It sits right on the edge of Baylor University, an awesome eclectic coffee shop that is clearly a popular place for the college kids to hang out. Sunday we found it open from noon to midnight.
Finishing out our trip with a 15min drive to McGregor TX, about 15 minutes outside of Waco to see the Magnolia House, 323 South Madison Ave. McGregor, TX 76657. This house was featured on the Christmas show, and the caretaker house on the same grounds was featured on a separate show. Even though they do not offer tours of the home, the drive was worth it to see this amazing home from the outside. You can rent this home for your stay in Waco, it runs $695- $995 per night. Check out the website to see a photo tour and book your stay. There is a great antique mall on the way back if you have time to stop and check in out. We came home with an awesome Holly Hobby Lunch box from one of the booths.
#waco #silos #girlsweekend #fixerupper #renesinclair #yorksinclair #Aroundtown
Let me know if you have any questions!
Rene´Sinclair
972-816-9816
York Sinclair Realty Group
Powered by JP and Associates Realtors
www.YorkSinclair.com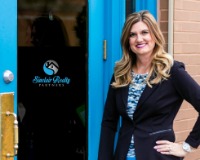 Author:
Rene Sinclair
Phone:
972-816-9816
Dated:
April 25th 2016
Views:
1,091
About Rene: Originally from Phoenix, Arizona, by way of Conway, Arkansas, René got to Texas as soon as she coul...