Bayou Jacks Roanoke Texas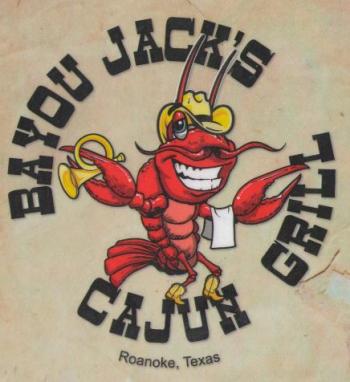 I have been driving by Bayou Jacks Cajun Grill in Roanoke, Texas for a long time now without paying much attention, but now that I am looking for new places to try it sort of jumped out at me. My husband and I are huge fans of Cajun food and have been looking for a good place in Denton County to satisfy our cravings, without much luck so far. So, we were excited to give this place a try. First of all, if you have never dined in Downtown Roanoke Texas, you are missing out. Roanoke is known as The Unique Dining Capital of Texas. Located just south of Hwy 114, off 377, Roanoke offers many restaurants and shops with a charming small town ambience.
From the moment we walked through the door at Bayou Jacks, I knew this place was the real deal. It has a true Cajun atmosphere from the decor to the music. There is a large dining are, a small bar area, as well as a nice outdoor patio dining area. Bayou Jacks is know for its rack of special sauces, including one called the 357 Mad Dog Hot Sauce (there's a yellow zip-tie on the bottle), Label says 600,000 Scoville units (FYI, a jalapeño is around 6,000 and the habenero around 200,000). YIKES! I asked my hubby to give it a try (in the interest of the blog), and Oh my gosh, I thought he was literally going to cry!!! LOL.
For our meals, I opted for the blackened chicken ceasar salad. My hubby went for a more traditional meal of fried catfish and blackened shrimp. The food was really really good. We both thoroughly enjoyed our meals. I also was told I needed to try the house special drink - the Hurricane Kris. It was so yummy, but I think one would have to be my limit on those. Also worth noting, Bayou Jacks is located in front of the train tracks that run along Hwy 377. As a house special, they offer $1 Jello shots whenever a train passes. ;) All in all, two thumbs up. Bayou Jacks will be staple in our restaurant arsenol.
Bayou Jacks Cajun Grill
210 S Hwy 377
Roanoke, TX 76262
Check out my video here:
Ranesa Bodine is a real estate agent with JP and Associates Realtors. She specializes in real estate in Denton County and basically anywhere else in the Metroplex she can help people find their perfect home. She can be reached at www.ranesabodine.com or ranesabodine@gmail.com. 214-529-2537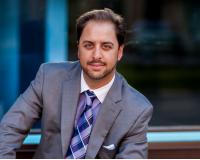 Author:
JP Piccinini
Phone:
480-980-9025
Dated:
May 7th 2012
Views:
3,778
About JP: JP Piccinini is CEO and Founder of JP and Associates REALTORS (JPAR), Founder and CEO ofOdasi Real E...