If a home lingers on the market too long, it begins to acquire, well, a reputation. Deserved or not, the home may be perceived by buyers as flawed or overpriced. So in the interest of avoiding a bad rep—or becoming the real estate equivalent of the last kid picked for kickball at recess—some sellers pull their listing from the market and take some time to reassess and, eventually, relist.
Of course, it's not as easy as pulling the home one day and relisting the next. Even if you take a home off the market and start over with a new agent, it won't necessarily appear as a new listing. Your local multiple listing service has rules that determine what qualifies as new. Since the rules vary from city to city, make sure to check with a local broker about how long your home must be off the market before it can be "new" again.
Property sales and listing history are easy for any prospective buyer to find. While a lingering listing might be giving your home a bad rep, marketing plays an important role in getting your home sold.
The first thing an agent can do is analyze why your home didn't sell and then address that issue.
Sometimes it's the price, but often it's the way the home shows in person or online, or a lack of targeted marketing.
Photos more crucial than price
It's especially important to send seasonally appropriate photos, If it's spring, you don't want to start off with a photo that shows fall leaves or piles of snow, because that's an instant tipoff that the home has been sitting on the market.
It's also important to take new photos if the home has been staged or updated in any way. At the same time, only attractive photos should be displayed with the listing. Some agents upload dozens of photos just to meet a quota rather than showcase only the most enticing photos of a home
A small price change may serve to trigger an email alert to buyers who have set up a home search based on their price range. For example, if your home is priced at $255,000, you're not reaching buyers who've set their search for homes priced between $225,000 and $250,000. Reducing the price to $249,900 will draw new attention to the property without a deep price cut.
Staging and timing crucial to sale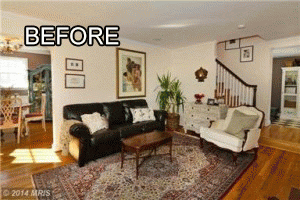 New photos showcased the new look, and the home sold in six days.
Info taken from http://www.realtor.com/advice/how-to-relist-your-house/?cid=soc_editorial62064416&adbid=10154300603322871&adbpl=fb&adbpr=35368227870