Greatness in Randy Smith New Book
Trust me. I have met many people in my life. After all my business is to meet people. However very few people like Randy Smith - coach, author, instructor, and REALTOR. Randy is in a class of his own. He's a walking and living Wiki-pedia of personal coaching, spiritual and motivational quotations. As my friend's new book hits the shelves I ponder about his journey to greatness...
Do yourself a favor and read his latest book "Lessons to Learn on Your Journey to Greatness" as it empowers all of us to great new heights.
I am lucky to be able to call Randy a friend, but also a colleague. We are honored to have him as a personal coach and among the ranks of JP and Associates REALTORs. If you want to purchase a copy of the book click here. I can have it autographed by Randy himself if you would like.
I leave you the foreword of his book in hopes it will inspire you to read more. Enjoy - you are one of the few people that has access to this - the book just went on sale yesterday:
FOREWORD - Lessons to Learn on Your Journey to Greatness - Randy Smith.
"I know what I have given you. I do not know what you have received."
-Antonio Porchia-
For as long as I can remember, I have sought out great words spoken and written by others in an attempt to find various levels of motivation and inspiration which I could then apply in my life and career.
I begin each day reading from the Holy Bible, and I supplement that reading from a few different journal-type works given to me by different family members.
As I contemplate all that I have read, I then tune into some topic which sort of jumps into my heart and mind, and I make the time to research quotations and thoughts relevant to that topic. As I am drawn to certain quotations and thoughts from ancient through current great people from all walks of life and countless career fields, I discover many new insights. I grow.
I then write a daily Internet piece which has come to be known as "Quotes and Thoughts for Each Day," and this daily piece totals over 2,000 compositions to date. Every day I receive emails from my Subscribers telling me that they gained something small or something significant from their reading. That is so encouraging, and I always respond, and I tell them that while I am glad they grew in some way from my words expressed, they should know that whenever I write that daily piece, I am always addressing something relevant or to which I need to address in my life at that time. I simply share what is on my mind, and any insights gained accordingly.
One insight may be revealed on one day, then weeks or months later in reading the same words; another insight is revealed. Much like my reading of the Bible; particular verses read again and again over time, allow for a deeper level of discernment and fresh insights with each reading of the same words.
As you peruse the quotations I have selected on sixty different topics, I hope you too will gain from the words expressed by the author of the quotation, and that you may also grow from my sharing some of the insights I have discerned through my thoughts on each quotation shared. More importantly, my hope would be that you would look even deeper, discern even more, and then apply what you have gained into your life and career. There will be certain readings which will speak to you directly, while others may not apply to your life at that time. There is not a topic selected for which volumes could not be written. The purpose is for the reader to begin opening up their heart, mind, and soul toward gaining something which might motivate and inspire them to think and look deeper into that topic as it applies to them at that time. What you gain will reflect a great deal of where you are in your life and career. This personal and committed process which I choose to embark upon every day has changed my life in many ways.
This book will benefit anyone committed to growing and developing as a person and a professional regardless your walk in life and your career field. Most of my career has evolved within the real estate industry, but what I share in this book is relevant to anyone in any walk in life and in any field of endeavor.
My thoughts expressed are mine, and applicable in my life and career. You may not agree with my thoughts or discernments, and that's just fine. Some of my thoughts shared may sound harsh; convicting. Some thoughts expressed may seem vague or open ended. Some thoughts expressed are redundant in that they show up throughout the book.
If what I share convicts, then there's a message there for you. If what I share appears vague, then there's a call there for you to look deeper. If what I share seems at times redundant; it's important. If what I share validates something for you, then you will know that someone else shares your view. If you discover something new and exciting; you own it. It's all about growth and self-discovery. Whatever it is you discover belongs to you, and then it will be your choice to apply what you have gained into your own life and career. Hopefully, you will share that with another.
This personal and committed process of reading and researching quotations from great people on topics and truths spanning the ages, initially led toward my desire to better understand the difference between 'motivation' and 'inspiration.' There is a clear difference; and we all need motivation and inspiration, whether we believe so or not.
Motivation is the "Push" we feel coming over us when one of our senses are touched by something external to us, such as a breath taking view, music, words read, or words heard. Inspiration on the other hand is the "Pull" we experience when the motivation is in the process of being internalized; ignited.
Motivation sort of says, "I want to do this," while inspiration says, "Nothing will stop me." Motivation provides incentive, a call to action; inspiration comes teeming with powerful emotions and awakenings. Motivation can be short-lived; while inspiration needs to fulfill something greater, something more significant. Motivation is largely external; inspiration internal.
When I deliver a motivational message to a group, I often borrow the words written above from the Italian-born writer and poet, Antonio Porchia. I use his words to close out many a message, because I know in my heart that when I deliver a message, whatever be the topic, I will give it all that I've got, but there is no way on earth that the one receiving the message will be ignited in the same direction or on the same level as I or the person sitting next to or behind them.
I believe that success, however one chooses to define it, is driven internally; yet most of us do our utmost to seek out external sources in an attempt to take us to the level we seek, and unfortunately, the result is most often disappointment. We experience countless levels of motivation along the way, yet we never arrive at our intended destination, because we lacked the inspiration necessary to carry us toward the finish line.
I am reminded of a story involving the great sculptor and painter Michelangelo, whereas he was just about to complete the magnificent sculpting of David. One of his peers approached in awe of Michelangelo's work, and he said something to the effect of, "Michelangelo, that is a beautiful sculpting. How did you create such a beautiful work out of a block of marble?"
Michelangelo, probably standing back a few feet observing his work with hammer, chisel, and polishing cloth in hand is reported to have said, "It is easy, David was already in the marble; you just chip away the stone that does not look like David."
You and I are a lot like a great big block of marble, possessing within us a call and a charge to become the very best we can be; a great, pristinely sculpted statue which reveals and represents the very best we can be. We are expected to answer the call. Michelangelo would have said it this way; "Every block of stone has a statue inside it, and it is the task of the sculptor to discover it." Each of us represents both the sculptor and the statue; our charge in life is that we discover just that and then get to work.
As you peruse the pages of this book, there will be many references to this simple story, and as expressed by many others in their quotations and through my added thoughts, insights, and perceptions shared; I hope that you will begin that "chipping away" process. I believe with all my heart, mind, and soul that we are called to become more; to become the very best we can be. We are all called to begin "chipping away" at what's in the way of our becoming all we can possibly be. We discover that the lion's share of what's in the way resides within us; and what we need to advance toward becoming our very best resides within us as well. There are days when the results of our sculpting produce a perceived limited effect, and then there are those days when we discover that we have chipped away a huge chunk of marble; a significant piece of what has been in our way. We are all called; but few answer the call. I hope you answer your unique calling.
Chipping away at the things which are in the way is a process; not an event, but looking deeper, those who are committed to becoming more, begin to see this process as a journey encompassing all aspects of their life. Then there are those of us who feel adequate right where we already are; we don't hear the call. We know there's a void, something continues to pull at us, beckoning us, pleading with us, attempting to inspire us to hear and then answer the call; the call and the charge to become much more than we already are.
Wherever it is you are on this journey called life; and we are all on a journey, we are expected to do more and become more, until we become the very best we can be. If we are to arrive at that metaphorical place I refer to as our GREATNESS, we have to choose a path or a road of discovery that will lead us there. The oftentimes lonely and jutted 'path' to which I address is called greatness; the 'road' is symbolic of a congested, yet smooth surfaced passage which leads to mediocrity at best. I hope you will choose the 'path.'
Wherever it is that you are, whatever path you've chosen; you will feel a void; so begin the journey. You may feel comfortable, safe, and secure right where you already are; trying to convince yourself that there is no void, that you have already become the very best you can be. Begin the journey anyway, because if you're still breathing, you have yet to become all you are called to be. The pursuit of one's greatness is a life-long mission, and it may commence at any time. So begin the journey, because there's so much more yet to come; exponentially more, and the great Antonio Porchia would have advised us of this:
"We become aware of the void as we fill it."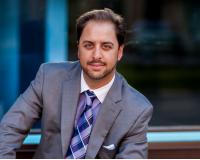 Author:
JP Piccinini
Phone:
480-980-9025
Dated:
March 14th 2012
Views:
6,931
About JP: JP Piccinini is an entrepreneur, philanthropist, proud dad and the Founder, Broker and Owner of JP a...