HoneyVanilla Ice Cream
Ingredients · 3 cup(s) heavy cream · 1 cup(s) milk · 1/2 cup(s) honey · 2 vanilla beans, split · 4 large egg yolks · 1 tablespoon(s) vanilla extract Directions 1. In a medium saucepan over medium heat, heat first 4 ingredients until hot (don't let boil), about 5 minutes. 2. In a medium bowl, whisk egg yolks. Drizzle 1 cup hot cream mixture into yolks, whisking continuously. Pour back into saucepan over medium heat and whisk until custard thickens slightly, about 5 minutes. Pour through a fine-mesh strainer. Scrape vanilla seeds into custard. Add vanilla extract. Cover and chill, about 1 hour. 3. Following directions on your ice-cream maker, churn custard. Transfer into airtight containers; freeze for at least 2 more hours.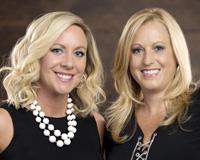 Author:
Go 2 Girls Realty
Phone:
469-443-6537
Dated:
July 7th 2014
Views:
1,966
About Go 2 Girls: Whether you are looking to find the perfect home, or buying and selling real estate to build your pr...