New Home Construction In McKinney Frisco And Prosper Texas
Why use an agent when purchasing a new construction home? Won't I get a better deal if the builder does not have to pay a middleman? The builder is taking $20,000 off the price plus giving me 30,000 in upgrades, how can an agent possibly get me a better deal?
When you sit down with a new build agent you are working with a person that is there to represent the best interest of the builder. They are not there to take advantage of you but bottom line you deserve to have an agent there to protect your interests.
Recently I sold a new construction to a client. This client was very smart and successful and this was by NO means their first home purchase. In our current housing market in Collin County builders are increasing home prices and inventory is moving fast. I was able to negotiate additional incentives and save the buyer some money but EVEN more importantly was when we hit some huge issues with lending and the builder was not properly finishing out the home I was able to protect my client. They got their home (with no money lost or additional cost) and the builder properly completed the work on their home. It really helps to have someone on your side that has the relationships with the right people, understands contracts and knows how to negotiate.
Realtor's sell 75% of all new homes, so homebuilder's are inclined to work well with us. They want us to bring more of our clients to their communities. So if your in the market for a new home and are leaning towards a new build be sure to take your realtor along. We really can negotiate a better deal for YOU.
Are you curious about new builds in Frisco, Prosper and McKinney Texas?
Take a peek at what is currently on the market.
McKinney Texas New Construction
Prosper Texas New Construction
Give me a call or send me an email if you have any questions about purchasing a home.
I am happy to help you!
[email protected] or 469-853-9784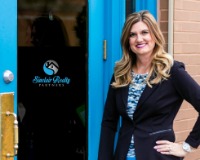 Author:
Rene Sinclair
Phone:
972-816-9816
Dated:
January 18th 2015
Views:
921
About Rene: Originally from Phoenix, Arizona, by way of Conway, Arkansas, René got to Texas as soon as she coul...