Piranha Killer Sushi Flower Mound
I don't know about you, but I tend to be a creature of habit. Maybe it's just a comfort level thing, but I tend to shop at the same stores, eat at the same places, and even order the same ole thing when I get there. I figure its better safe than sorry! But, I'm realizing that is BORING! I think it's time I branch out and try new things. Thus, the motive for this blog. I am going to take you with me as I experience new places to go, things to do, and stuff to eat! I think this will take me out of that comfort zone and be sort of like an adventure. Oh, one twist - I live in Denton County, Texas. Therefore, I am going to focus on things to do in and around my neighborhood. So, if you've recently moved to the area, are thinking of visiting, or just want to try something new, I invite you to come along with me on this adventure. Things to Do in Denton County!
Up first: Sushi. When the sushi craving strikes, I tend to head straight to the tried and true. Not today! Today, I am trying something new. Piranha Killer Sushi opened in Flower Mound in May 2011. I've driven past a million times, and so I decided, what the heck, let's give it a try. Upon walking in the door, I was impressed by the ambience of this cozy and contemporary space. Piranha features an open air bar overlooking a nice patio area. The dining area itself is very open and hip. I am told each Piranha restaurant is unique in design. Now, for the food: We began with a cocktail. I went for the house special - the Sexytini (garnished with an edible orchid!) It was yummy. We order a couple of the house specials - most notably the Marry Me Roll - complete with strawberry on top (mmmm...), some Sashimi, and my usual standby - spicy tuna. Everything was delish, except the Spicy Tuna. I just wasn't a fan...it was served with a sort of hot sauce drizzled over the roll and topped with scallions. Some people may like that, but it just wasn't what I consider a Spicy Tuna Roll. All in all, though, it was great food, very fresh and tasty. This is the perfect spot for date night, girl's night, or any night! ;)
Piranha is located at:
5801 Long Prairie Road Flower Mound, TX 75028
Check out my video here:
Ranesa Bodine is a real estate agent with JP and Associates Realtors. She specializes in real estate in Denton County and basically anywhere else in the Metroplex she can help people find their perfect home. She can be reached at www.ranesabodine.com or ranesabodine@gmail.com. 214-529-2537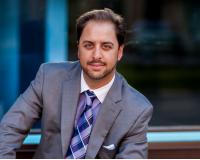 Author:
JP Piccinini
Phone:
480-980-9025
Dated:
April 16th 2012
Views:
3,778
About JP: JP Piccinini is an entrepreneur, philanthropist, proud dad and the Founder, Broker and Owner of JP a...