Rainy Day Eats
Rain, rain go away, come again some other day! 3/16/2014

Restaurant review – MASH'D Frisco
So in the last 7 days here in Frisco, TX we have experienced all types of weather. When myself and business partner Lourdes Lane visited MASH'D last Saturday after a long day of showings in cold and rainy conditions we thought that was the end of the crappy weather, but as you can see from the looks of it outside (41°) we can't seem to shake this icky weather……
Now I'm originally from Seattle so I used to be used to it but since moving to Dallas four years ago I'm spoiled and I'm a wimp in these types of blistery conditions. Anyhoo, let's talk about a new restaurant call MASH'D. MASH'D is located at 3401 Preston Road Suite 1 Frisco, TX 75034. Famous for its moonshine, we didn't have a drink because it wasn't that type of meal but I will be back for a drink or two. Let's get to it. I gave it four stars out of five only because I didn't get a drink and my meal wasn't anything complicated. I ordered the grilled chicken sandwich and caesar salad. Lourdes got the gumbo and K& Q salad. Our server was very nice and gave excellent customer service. The food was quick and delicious and we both enjoyed ourselves and the ambiance. This is a restaurant I will be returning to and based on other reviews I have read they will be around for a long time. So if it's raining out and your hungry stop by MASH'D in Frisco off of Preston. But, make sure you have a drink, I know I will be!!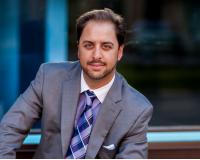 Author:
JP Piccinini
Phone:
480-980-9025
Dated:
March 16th 2014
Views:
1,450
About JP: JP Piccinini is an entrepreneur, philanthropist, proud dad and the Founder, Broker and Owner of JP a...