Recycling In Frisco Texas
Good morning Frisco residents!
I recently spent a few weeks away from Frisco and one of the first things I missed was not having my blue recycle bin. After living so many years in Frisco, I didn't realize how much I recycled - everything that could be recycled - I recycled. So, living somewhere for even a short amount of time without a proper trash system and much less recycle process, made me realize and appreciate Frisco's excellent community waste disposal system. So, I promised myself when I returned to Frisco, I would thank Frisco for taking such good care of it's residents and never take their trash system for granted again! THANK YOU FRISCO!!!!!!

Frisco's community waste disposal (C.W.D) 972-392-9300 - provides residential curbside trash, recycling and yard trimmings recycling collection services. Trash and recycling services are provided one time per week. To report any problems contact 972-292-5900 or [email protected] Website is www.FriscoTexas.gov/recycle

Some excellent tips that you may or may not know --- or may need to be reminded about!

Place recycle items in your BLUE cart. Not your GRAY cart. DON'T RECYCLE: Aluminum foil, aerosol cans, ceramic cookware, packing peanuts, pizza boxes, styrofoam, tissues, and waxed cartons. DO RECYCLE: Aluminum cans, cardboard, catalogs, cereal boxes, envelopes, glass, greeting cards, junk mail, magazines, phone books, plastic bottles, plastic #1-5 & 7, shredded paper, street cans.

Yard Waste:
Yard trimmings should not be placed in the trash or recycling cart. This material is truned into compost, saving disposal charges and landfill space. Put grass, eaves, weeds and small brush in paper lawn bags available for purchase at local hardware and grocery stores. Don't use plastic bags. Bundle and tie tree limbs in 3 foot lengths, not to exceed 30 pounds. Place bags and bundles out on your regular collection day at least 3 feet away from carts.

C.W.D also has a Keep Frisco Beautiful program. They offer several volunteer opportunities including the Adopt a Street program. If interested, you should contact them if you are a civic minded organization or individual interesting in finding out more.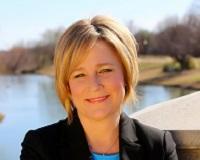 Author:
Debbie Viverito
Phone:
972-836-9295
Dated:
August 14th 2013
Views:
2,002
About Debbie: Debbie's knowledge of the Frisco and North Dallas area, homes and neighborhoods are just some of the...