Running In Dallas With My Valentine
Unless you're living under a rock – then you know today is Valentines Day. I remember when my husband and I first started dating Valentines Day was a huge deal. It was so important to portray my love for him on this special day. Well…we have been together for 13 years – and I have to be honest people - I haven't fretted over a Valentines day in years. Now, I'm not saying that Valentines Day isn't supported here in the Buchler household – because it is. It's just that with my cute guy, it's unspoken on what we will do to spend time together. I bet your're thinking that we will order take out so I don't have to cook or clean the kitchen (If you have read my earlier blogs – you know my aversion to kitchen clean up)… or that my guy will get me a Barnes and Noble gift card so I can buy a few more books to add to my library (again.. refer to earlier blogs).
Nope – it's none of these. What my husband and I do to "show our love" for each other involves lacing up a pair of running shoes. We don't really have "date nights" - we have "date runs". Normally we run around some of our favorite neighborhoods and running trails here in Allen. But when it's a "date run" we try to get a little more creative. Dallas has some great running locations that are just downright beautiful! The awesome Katy Trail, the Dallas Arts District (tricky – but still run-able), Fair Park , and my favorite -White Rock Lake.
Since V-day falls on a school night – we have opted to put off our Valentines run for Saturday. The weather is set to be perfect. Our girls are at dance all morning and I'll have nothing but my iPod, the pavement and my very favorite running partner by my side.
Click here to check out condos and townhomes for sale around the Katy Trail
Click here to take a peek at houses for sale around White Rock Lake
Click here to take a peek at houses for sale in an Allen neighborhood with a great running trail
Your favoriteNorth Dallas running Realtor –
Kimi Buchler
Kimi specializes in North Dallas residential real estate home sales in Allen, McKinney, Fairview, Frisco, Richardson and Plano areas. Kimi is a self proclaimed book worm, half marathoner, wife to a really cute guy and a non-crazy dance mom of two girls. She genuinely loves to laugh and strives to make the stress of house buying seem more like fun and her "find a way" attitude has helped many clients out in tough situations. Let Kimi help you race towards your real estate goals and together cross the finish line to a new home, satisfaction and happiness.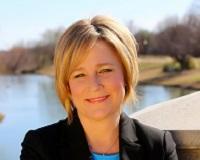 Author:
Debbie Viverito
Phone:
972-836-9295
Dated:
February 14th 2013
Views:
2,228
About Debbie: Debbie's knowledge of the Frisco and North Dallas area, homes and neighborhoods are just some of the...