The Polka Dot House Next Door
Posted By Jennifer Ott:
Written By: Piper Weiss, Shine Staff
The Polka Dot House Next Door: Awesome or Eyesore?
Polka dots aren't just for bikinis, according to the Grand Forks painter behind the now-famous polka dot house.

Jim Deitz, a retired house painter, is in the process of converting a two-story house into an apartment rental complex, by covering the exterior in brightly-colored dots. "Pizza delivery drivers won't have any trouble finding this place," Deitz joked to the Associated Press on Wednesday. "You can't miss it."

Photos: amazingly colorful homes around the world

The paint upgrade of his 100-year-old home has become a local attraction, reports the Grand Forks Herald, with crowds gathered daily to watch Deitz choose colors for his slightly imperfect circles. He first got the idea for the project after a virtual tour of colorful homes. "I looked at all kinds of crazy paint jobs on the Internet and came up with this polka dot deal," Deitz said. "She looks good."

But not everyone's digging the dots. Ryan Brooks, a local city planner, thinks the home is a blight on the neighborhood. "I think my opinion is the same as everybody - I wouldn't want to be living next to it," Brooks told the AP.

But there's more to this story than what assaults the eye. Last year, the city backed out of a plan to buy Deitz's home for $100,000.

Now Brooks sees a connection between the dots and the failed deal. Is it a form of protest? An aggressive flick off to city planners? It's neither, says Deitz. He's just hoping the dots will brighten up the neighborhood, and perhaps, up his property value. (He says he'd charge the city $50,000 more if they wanted to reconsider a purchase with the new paint job. Any takers?)

How to deal with nuisance neighbors: a field guide

Despite his pro-dot stance, the new landlord must have anticipated some dissent. Before going ahead with his plans, Deitz checked with City Hall to make sure he wasn't breaking any law by showering his home in circles. Turns out house-dotting is totally legal in area, if not neighborly. "I'm glad you don't live next to me," fellow painter and Grand Forks resident Gary Kokron told Deitz when he saw the house. Technically, the new landlord doesn't actually live there. The place he calls home is a decidedly dot-free house nearby.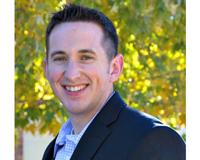 Author:
Michael Worley
Phone:
214-394-8299
Dated:
May 4th 2012
Views:
3,886
About Michael: Are you looking for a Realtor that will put your interests first? As a young kid growing up in the ...