You Ask What Is GrapeStomp
It's in Grapevine at Grapefest 2016!
http://www.grapevinetexasusa.com/grapefest/events-venues/grapestomp/
Fast Facts:
So, just how fast can your feet fly at GrapeStomp? Two-person teams create their own special "I Love Lucy" moment and take turns stomping approximately 18 pounds of grapes for two minutes. Teams that stomp the most juice are eligible to participate in the Grand Championship StompOff on Sunday, September 18 at 4 p.m. GrapeStomp is great fun for the whole family. You might even try to step up to the GrapeStomp challenge. Entry fee is $5 per person.
Children ages 13 and under can stomp for free. The GrapeStomp stage is located in the shadow of Grapevine City Hall and close to the Champagne Terrace adjacent to Merry's on Main. Winners will be awarded the coveted and sought-after "Purple Foot" award.
GrapeStomp Schedule: (sessions occur every half hour at the following times):
*Sessions are held throughout the weekend and fill up quickly so get there early to register.
Thursday, September 15:
4 p.m. - 7:30 p.m.
Friday, September 16:
2 p.m. - 7:30 p.m.
Saturday, September 17:
2 p.m. - 7:30 p.m.
Sunday, September 18:
12 p.m. - 2:30 p.m.
Special Events:
Senior GrapeStomp at 10:30 a.m. on Friday, September 16

Mayoral GrapeStomp on Saturday, September 17 at 11 a.m.
The GrapeStomp Grand Champions will win the Coveted Purple Foot award in two styles. Each member of the championship team will win the coveted Purple Foot Trophy as well as having their own feet made into art. Artist Dominque Galleron Johnson from A Touch of Paris Studio will assist each champion create a special memento to remember their victory at GrapeFest. For more about A Touch of Paris, please visit www.atouchofparis.gallery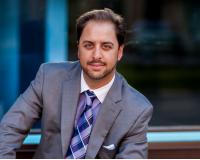 Author:
JP Piccinini
Phone:
480-980-9025
Dated:
September 16th 2016
Views:
2,971
About JP: JP Piccinini is an entrepreneur, philanthropist, proud dad and the Founder, Broker and Owner of JP a...