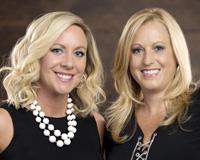 Whether you are looking to find the perfect home, or buying and selling real estate to build your professional wealth, real estate transactions are always critically important. Thoroughly understanding and satisfying your needs and desires, providing you with accurate, timely and expert information, and making your experience enjoyable from start to finish is The Go 2 Girls Team's first priority. You can count on The Go 2 Girls Team's integrity, dedication, experience, knowledge of financing options, exceptional customer service, and commitment to clients. We go above and beyond for ALL of our Clients whether they are Buying or Selling. We are committed to exceeding all expectations.




ANGIE CUPPS

If you are looking for that Realtor that can handle your specific needs from A-Z then look NO further! Proud Texan born and raised. Angie grew up around the West Texas area of Abilene. She has a background in Sales and Management. She has been in the Plano area for almost 14 years now. She is extremely familiar with the local areas such as Plano, Frisco, McKinney, Allen, and Prosper as well as Murphy, Wylie and other surrounding areas. She started in Real Estate over 3 years ago and worked for Keller Williams for some time before making the move to JP & Associates REALTORS. Angie is also a member of Collin County Association of REALTORS and also National and Texas Association of REALTORS. She is a Full time Realtor all over Collin County. Her commitment to Customer Satisfaction goes above and beyond exceeding expectations. Her first priority when meeting a new client is to find out how she can best help them with finding out their specific criteria. Angie is an active listener and uses the insight she gains to help her more accurately address her client's wants and needs. She gives them the information they need to move through the process of buying or selling a home with the least possible stress or uncertainty. Her belief is that knowledge of today's market leads to good decisions. When clients know what to expect at each step along the way, it makes the entire transaction more enjoyable for everyone. Angie's sense of empathy for the emotion that goes into buying or selling a home could be the reason why so many of her former clients are her present friends. She can get you through the process of Buying or Selling with ease.When Angie is not selling Real Estate she loves spending time with her children and enjoys attending their activities such as soccer, basketball and softball. When she has some extra time she also enjoys hitting the gym and going to the gun range.Let Angie guide you through one of your most important decisions. She is committed, and has a willingness and passion to help you through the process.




TASHA STARKS

I am a native Texan, born and raised in the Abilene area. I received a Bachelor's Degree in Criminal Justice with a Minor in Psychology from Metro State University in Denver, Colorado. I have lived in Collin County for 13 years and have extensive knowledge in the Dallas Metroplex markets like: McKinney, Frisco, Little Elm, Prosper, Celina, McKinney, Allen, and Plano but would love the opportunity to work anywhere within DFW Metroplex.

I have a passion to provide excellent customer service and exceeding your expectations. My goal is to truly understand the needs of my clients and develop uniquelytailored solutions to meet their needs. I am a full time Realtor, dedicated to helping people move on with their lives, and achieve their dreams. I am very proud of being a real estate agent, and I believe that I owe my clients not only my commitment to helping them achieve their goals but to without doubt have the knowledge to make that happen. When I'm not selling Real Estate, I enjoy spending time with my husband of 17 years and watching my son play baseball and watching my daughter dance.


If you are interested in Buying or Selling a home please give the Go 2 Girls a call @ 469-443-6537.
Send Go 2 Girls a Message